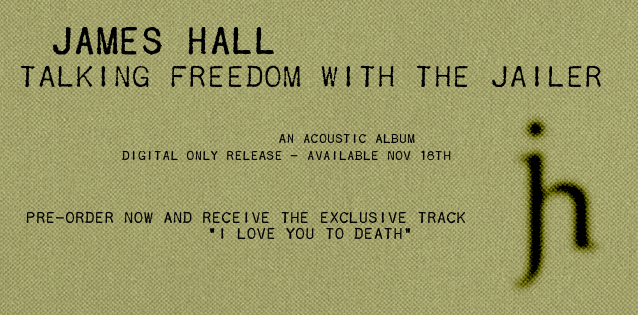 AVAILABLE NOW FOR PRE-ORDER
James Hall's 3rd solo release "Talking Freedom With The Jailer" is a 9 song acoustic based Digital-Only record that captures the spirit and stripped down approach of the James Hall Duo (James Hall and Bruce Butkovich). Just like their live shows, the collection is a mixture of newer collaborations and reinterpretations of songs from his solo records as well as Mary My Hope and Pleasure Club.
Exclusive to the Pre-Order of the album is a download of the track "I Love You To Death". It will not be available anywhere else after the full album is released November 18th.
Tracklist:
Two Graves
Suicide King
Daughter's Eyes
So Precious
Step Into The Light
You Want Love
Train To Salvation
Disassociative
One Last Look
I Love You To Death (Pre-Order Exclusive)
Pre-Order your copy HERE